Ronald Selle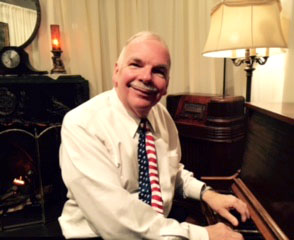 Born into a musical family, Ron started playing the piano at age six and trombone at age ten. Recognizing his natural skills and interests in music, it was natural for Ron to pursue music as a career. Graduating from the University of Illinois with a master's degree in music education, Ron was ready to teach, but serving his country came first. He enlisted in the Army and was sent to Colorado Springs as trombonist in the NORAD band. When discharged three years later, he joined the famous Dick Jurgens Orchestra, a popular band of the swing era which was on a reunion tour.
Later in Ron's career, he established Southwest Recording, a studio specializing in children's music, and recorded over two hundred songs for clients across the nation. Also at this time, he served as director of church music, writing and arranging for choir and handbells. Later, he taught and produced children's programs for students in preschool through grade 8. In addition, he established a 50-member theater group for which he became a playwright, composer, and director. Among his theatrical credits are two full-length original musicals: Divine Journey and Mr. Greystone Goes to Bethlehem, and a nineteen song score for the Dickens' classic, A Christmas Carol. As an actor, Ron played Emile de Becque in South Pacific, and the Ghost of Christmas Present in A Christmas Carol. As a reenactor, Ron has portrayed George Washington, Ludwig van Beethoven and other historic figures in library and museum programs.
Along with performing, Ron has always been a collector of rare and vintage sheet music, obtaining his first piece, a Civil War song, Stonewall Jackson's Grand March, at age twelve. His music collections have since grown into museum quality exhibits from many eras.
Darlene Agner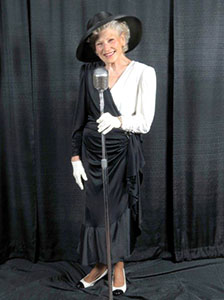 Darlene Agner, from early childhood, wanted to be a teacher. So when she entered the teaching profession, after graduating from the University of Illinois, it was all she had hoped it would be. It was the "Golden Age" of education with open-classrooms, hands-on learning and lessons that encourage exploration and discovery. Darlene's philosophy is that learning should be engaging and fun, and her classes were exactly that. Encouraged to share the fun and inspire other teachers, she earned two masters' degrees at Saint Xavier University, one in curriculum and the second in administration. Being in the classroom and interacting with students is still her favorie work. She took a brief hiatus to spend time with her young children at home, educating on the homefront.
She has been a classroom teacher, principal, curriculum writer/director, field supervisor in the public, Lutheran, and Catholic schools. In the private sector of education, she wrote curriculum for Knowledge Learning Corporation and her programs were adopted in seventeen states. She served as an adjunct professor of education for St. Xavier University. Her enthusiasm for education has never waned, partly because she has had the opportunity to work with educators of a like mind who inspire one another.
Being a museum exhibitor and program presenter has all the same elements of teaching and provides the same inspiration and satisfaction.