History of the Museum Building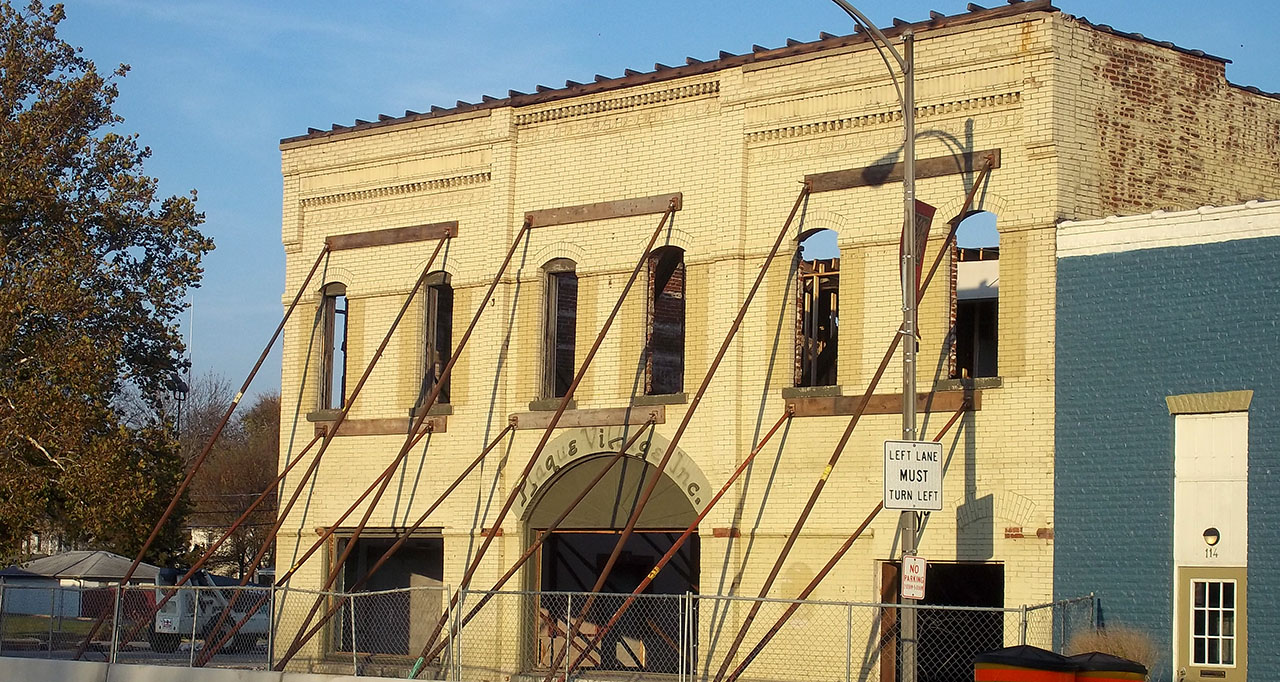 Pictured above: Original facade exposed as reconstruction progresses
Constructed in 1885 as the Miller house stables, the building has housed many businesses over the years. Although much of the structure is new construction, the original facade remains, with its rounded entry stable doors and windows facing Dixie Highway just as they did in the 19th Century. Occupants on this site include:
1885 - Miller House Stables
1893 - Wennerholm Brothers Livery
1897 - Central House Livery
1911 - Wennerholm Brothers Auto Livery and Garage
1944 - Strassenburg "Strassey's" Trucking
1948 - Pachner and Koehler (P & K) Fishing Tackle
1955 - Kimberly's Kaiser-Fraser Auto Dealership
1972 - Plaque Village Ceramics
1977 - Expansion of the A&P into Momence Finer Foods
2006 - America's Country Restaurant
2012 - The Earl D. Schoeffner Memorial Building
2017 - The Earl D. Schoeffner Farm Museum
Rich in Momence history, the building stands as a lasting tribute to those who lived and worked here through the years.
The museum itself is a piece of history, with the façade on Dixie Highway being a part of an original horse livery stable. Visitors will stroll through an authentically-furnished four-room house from the 1940s, and go back in time to visit an 1870's farmhouse kitchen. The barn area features antique farm tools and equipment, from an original 1880 John Deere prairie plow to Schoeffner's own 1951 Massey-Harris tractor. Personal items from Schoeffner's childhood also create a vivid picture of life on the farm in the 1940s. On display are games, toys, art projects, and writing assignments from young Earl's days in a one-room schoolhouse in Momence.